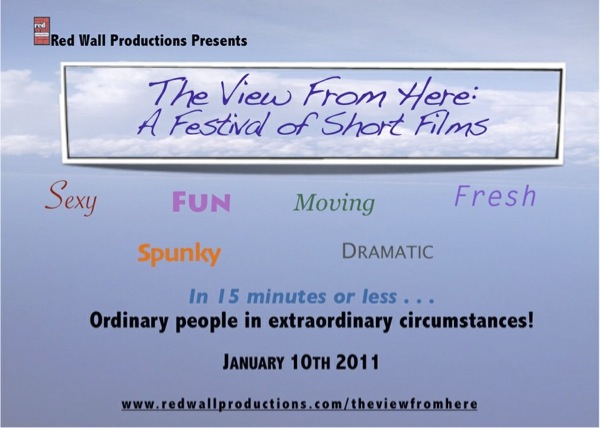 Red Wall Productions is excited to present
THE VIEW FROM HERE: A FESTIVAL OF SHORT FILMS
Spunky, Sexy, Fun, Moving, Dramatic, Fresh…In 14 Minutes Or Less!
Join us on January 10 for a screening of short films that feature ordinary people in extra-ordinary circumstances!
Audience members will nominate their favorite selection for:
Brightest Emerging Director.
After the screening, meet the people behind the films, and listen as they share their creative process.
WRITERS and DIRECTORS: Submit your film by the last chance DECEMBER 31 deadline for review
submit all entries to: Red Wall Productions A View From Here: Festival Of Short Films 400 W. 43rd St. Suite 17S New York, NY 10036
All films must have been shot after January 2009
Please mark your entries with: Name of film Runtime contact information
RED WALL PRODUCTIONS: Since 2002 empowering you to become the curator of your own image through low cost high quality film production. Everybody's got a story